Welcome to Myrtle Trace

"New Choices Magazine" chose Myrtle Trace as one of America's top 20 retirement communities. This community of 518 homes was carved out of a pine forest, and the many tall pines still standing throughout the community are just part of the beauty and serenity of Myrtle Trace. The tall pines are complemented by fifteen small lakes scattered throughout the community. Over 40% of the homes are situated on a lake and many others back up to either the Burning Ridge Golf course or wooded areas. Rabbits, squirrels, ducks, fish, turtles, and many varieties of birds are among the wildlife that residents enjoy. FOR SALE :: *** 106 WALNUT CIR. ***
This is an exceptional 55+ property located in the sought-after Myrtle Trace community. Boasting the largest and most impressive floor
plan in the neighborhood, this home features an open layout with lovely tile in the foyer, a light-filled kitchen, and four spacious bedrooms
, along with two full baths. The living room is an expansive 25 x 16, while the formal dining room measures 18 x 11. There's also a big
office that's 15 x 15, as well as a spacious Carolina room that's 15 x 14, offering tranquil views of the beautifully landscaped rear porch.
The master bedroom is a true oasis, featuring two large walk-in closets that are both 8 x 8, along with a master bath that has dual sinks,
a shower, and a luxurious garden tub with a whirlpool. The property also boasts an oversized 2-car garage that measures 22 x 22.
Situated on a quiet cul-de-sac street with a private lot, this home is well-maintained and move-in ready. Myrtle Trace is a vibrant and
active 55+ community with fantastic amenities, including an outdoor pool and clubhouse. The low HOA dues and low SC taxes make this
an affordable option for those seeking an active retirement lifestyle. The community offers a plethora of activities, including potluck
dinners, movie nights, bocce ball, dominoes, shuffleboard, horseshoes, line dancing, poker, scrabble, canasta, bridge, mahjong, game
nights, bingo, chorus, garden club, ice cream socials, and holiday parties. Centrally located, this property is just a mile away from
Coastal Carolina University and only 12 miles from the beach. Enjoy a round of golf at the nearby Burning Ridge Golf Club or shop at
The Outlets, both just a minute down the street. You'll also find a range of shopping and dining options nearby, including Tanager Outlets
, Food Lion, Kroger, Walmart, and Lowes Home Improvement. Don't miss out on the opportunity to own this exceptional home in the
desirable Carolina Forest area.
: CALL 843-997-2769 . CALL TODAY
Welcome to Myrtle Trace, The Active Retirement Community located in-between Myrtle Beach and Conway, South Carolina.
The community was developed by Hall Development Corporation. It was built in eight sections, or phases, with Phase I being completed in early 1980s. The last section, Phase VIII, was completed in 2005. Except for eight townhouses, the homes are free-standing, one-level structures on lots of about 1/8 acre. The homes are two and three bedrooms.
The homes in Phases I through VII have cedar siding. Most have A brick facade on the front. For Phase VIII with 114 homes, the developer used vinyl siding in place of the cedar.

For Weather
Leave the freezing North and come down south to Myrtle Beach to enjoy our warm tropical climate. Click Here

The Myrtle Trace Community is located between the cities of Conway, S.C. (4 miles) and Myrtle Beach, S.C. (7 miles) just off U.S. Route 501 and 544.106 Walnut Circle | Conway, SC 29526
Carolina Forest Area
Nearby Facilities
Medical – Within one-half mile, is the Conway Medical Center which has full array of treatment facilities.. There are many surrounding medical offices with a number of different medical specialists.
Shopping – Located on Route 501 are a Walmart, Lowe's, two small strip malls, an outdoor shopping plaza, banks, restaurants and other conveniences within one mile, two larger shopping centers and an Outlet Mall are within 3 miles. There is a large Regional Indoor Shopping Mall in Myrtle Beach, 7 miles away.
Education – Coastal Carolina University (CCU) and Horry-Georgetown Technical College (HGTC) are two miles from Myrtle Trace. Many Myrtle Trace residents volunteer their time in support of CCU athletics, take classes at the schools and enjoy the excellent cultural programs provided on the campuses.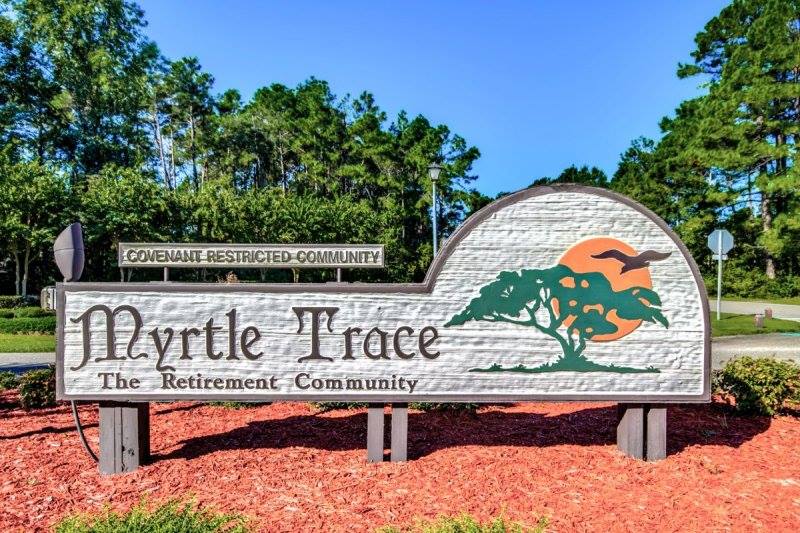 Recreation – For recreation and social activities at Myrtle Trace, the community has a Clubhouse for games and parties, a fully-equipped kitchen, and a lending library. There is an outside community salt water swimming pool, horseshoe pits, outdoor basketball court, Bocce ball court and shuffleboard court. In addition to the social and recreational activities provided by the Activities Committee, there are many groups that play a variety of games at the Clubhouse. There are many golf groups which play at several golf courses within a radius of 3 miles as well as the over 100 Golf Courses in the Myrtle Beach area. There is also a Myrtle Trace bowling league.
Entertainment & Dining – If that isn't enough, you will find Myrtle Beach to be the "fun capital" of South Carolina, with its beautiful beaches, Dolly Parton's "Pirates Voyage", The Carolina Opry, Alabama Theatre, Ripley's Aquarium, the Myrtle Beach Pelicans (Chicago Cubs farm team), cultural programs provided by Coastal Carolina University and the Long Bay Symphony Orchestra, over 1700 eating places, and many more entertainment venues.Community Management
Myrtle Trace is unlike most communities in that it does not use an outside management company to manage the common areas and facilities. These are managed by a five-person Board of Directors with the help of many community volunteers. As a result, the homeowners fee is very low at $88.50 per month.
Board members are elected by the residents for a period of three (3) years. Serving the Board are four committees: Property Committee, Architectural Review Committee (ARC), Activities Committee and the Communications Committee. Many volunteers handle activities that do not fall within the scope of one of these committees. The Property Committee has the primary responsibility for the management and upkeep of the common areas and facilities. The ARC is responsible for ensuring that homeowners adhere to the community's architectural guidelines spelled out in the covenants, or by-laws. The Activities Committee provides recreational and social activities for community residents. The Communications Committee publishes a monthly newsletter, the News & Views and maintains the Myrtle Trace website (www,myrtletracesc.org). As indicated above, Myrtle Trace is a covenant-restricted retirement community with written by-laws that are enforced by the Board with the help of the Property Committee and the ARC. The homes are single-family dwellings with the foremost restriction being that "no family may occupy a living unit unless at least one member thereof has attained the age of 55 or older". ..FOR A LIVE IN CARE GIVER CALL VICKY 315-466-6733
Gallery
Disclaimer: This website does not belong to the Myrtle Trace Home Owners Association
MyrtleTraceSC.org is the website for the Myrtle Trace HOA